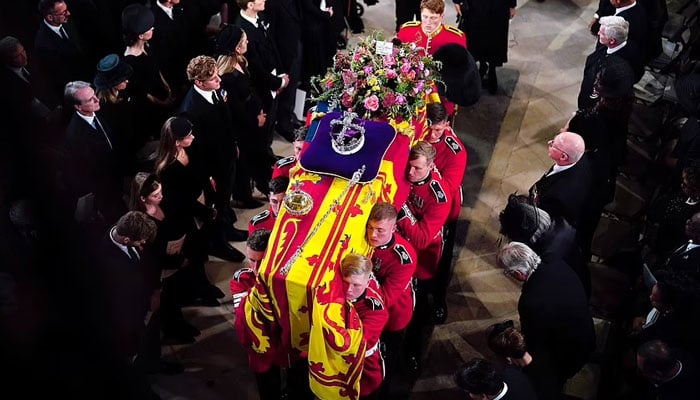 The details of the eight officers who shouldered Queen Elizabeth II's funeral and burial during her funeral have been revealed.

According to a report by the British news agency Daily Mail, a young officer of the First Battalion Grenadier Guards who carried the funeral of the Queen of Great Britain during her funeral is only 19 years old.
According to the report, some of the soldiers of the 1st Battalion Grenadier Guards were serving in Iraq from where they were called to perform the funeral rites of the Queen of Great Britain.
Sergeant Major Dean Jones, who led the Queen's Funeral Band of Brothers, is an instructor at the Royal Military Academy Sandhurst.
The youngest of these officers, Fletcher Cox, hails from Jersey and is only 19 years old. Fletcher completed his training as a cadet at the age of 15 as a topper and is the youngest recipient of the Lieutenant Governor's Medal. Omar is an officer.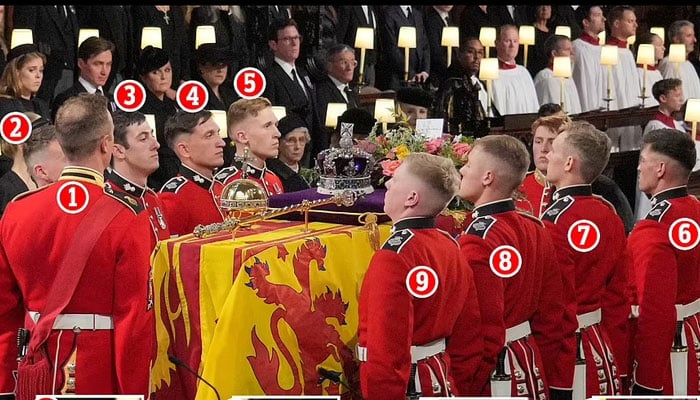 Fletcher's father says that it was a proud moment for him as a father to see his son take an important role in the historic moments of the funeral of the Queen of Great Britain, which were watched by millions of people around the world.
Luke Simpson, from Celeston, Nottinghamshire, was among the officers who conducted the funeral. Well done and Luke has made not only his country, his region, but his parents and colleagues proud.
Jack Orlasky, one of the 8 officers who shouldered the Queen's funeral, is from the London Guards, now called the Star of London Guards. Lance Sergeant Jack Orlaski was part of the London Guards before transferring to the Grenadier Guards.
When he's not serving his country, he's surfing, Ryan Griffiths proudly shared a photo of himself shouldering the Queen's funeral procession with his fellow soldiers. Appreciated by
Lance Corporal Tony Flynn lives in an army barracks in Hampshire and is recently married.
Sergeant Major Dean Johns, who led the pallbearers during the Queen's funeral, led the pallbearers as they walked past the Queen's body at St George's Chapel at Windsor Castle.
Lance Sergeant Alex Turner was at the forefront as he shouldered the deceased and Sergeant Major Dan Johns followed expertly in step.
The eight officers who escorted the Queen's funeral will be presented with certificates for carrying out this important responsibility well, while military officials, politicians and celebrities are calling for these young men to be made Members of the Order of Be granted membership of the British Empire (MBEs).
Others, including former army chief Lord Dennett, have agreed that these young men should be given MBE membership, saying that the MBE membership of the officers who shouldered Sir Winston Churchill's body in 1965 had already been set. Only exists.
.