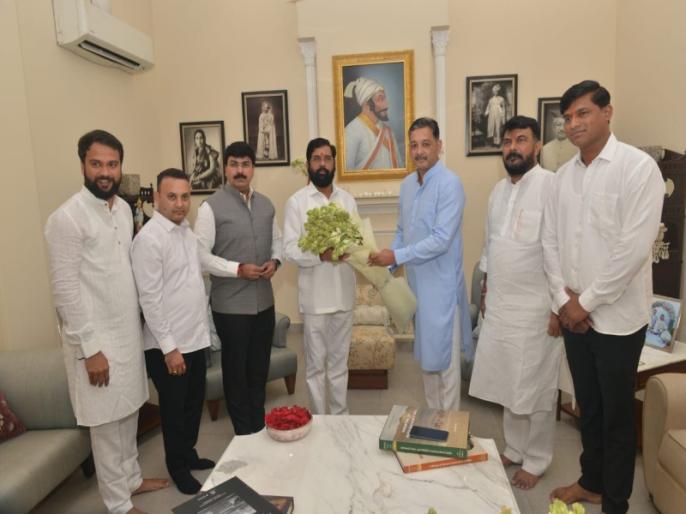 New Delhi- Chief Minister Eknath Shinde is currently on a visit to Delhi. On this occasion, he paid a courtesy visit to former MP Chhatrapati Sambhajiraje Bhosale's residence in Delhi. The information about the said visit was given by Sambhaji Raje himself.
Sambhaji Raje said that Chief Minister Eknath Shinde paid a goodwill visit to my residence in Delhi today. On this occasion, the government congratulated the Chief Minister for issuing the GR recently for the appointment of Maratha candidates, and demanded that a separate desk should be started in the ministry to coordinate the appointment of the remaining candidates. Also, Sambhaji Raje informed that a detailed discussion was held regarding Maratha reservation and other demands of the community.
Conservation of Gadkot, Mumbai to Raigad Fort, Fort Circuit Tourism, Tourism Development were also discussed positively. This year is the commemorative centenary year of Rajarshi Shahu Chhatrapati Maharaj. On that occasion, it was also demanded that substantial provision should be made for the overall development of Kolhapur. The concept was put forward that special activities should be implemented by the state government to convey the thoughts and works of Rajarshi Shahu Chhatrapati Maharaj to the world. On this occasion, Namdar Deepak Kesarkar, MP Rahul Shewale, MP Hemant Patil, K. Abhijeet Adsul, Maratha Kranti Morcha coordinator Ankush Kadam, Swarajya Sangathan spokesperson Dhananjay Jadhav were present.
Web Title: Chief Minister Eknath Shinde's visit at Chhatrapati Sambhaji Raje's residence
Get Latest Marathi News , Maharashtra News and Live Marathi News Headlines from Politics, Sports, Entertainment, Business and hyperlocal news from all cities of Maharashtra.
.