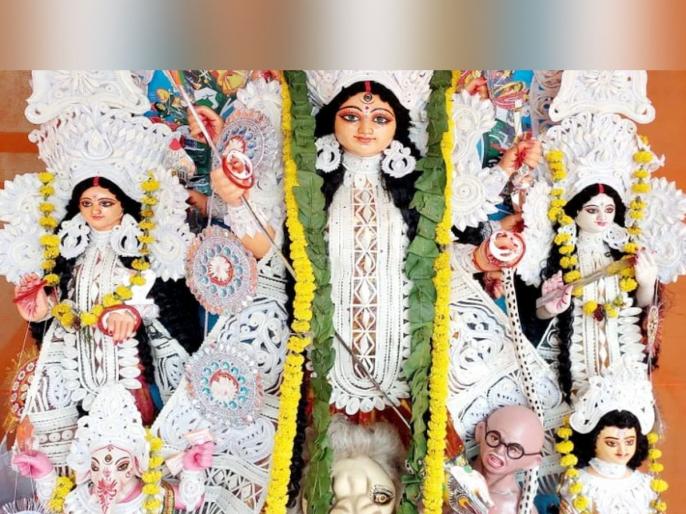 The idol of Durga Mata installed in Kolkata is currently in the news. In this idol, the mother is shown killing a person in the place of Mahishasura and it is claimed that this person is Gandhiji. After the related idol went viral on social media, the police discussed with the organizers. After this, this idol has been replaced. All political parties including the ruling Trinamool Congress, BJP, CPI(M) and Congress have condemned the incident.
This is pure coincidence – Hindu Mahasabha
Durga Mata is established near Ruby Park in South West of Kolkata. Speaking in this regard, the Akhil Bharatiya Hindu Mahasabha, the organizer of Durga Puja, has said that it is just a yoga-yoga. "Not every person who wears glasses is Gandhi. In this statue, the demon looks like Gandhi is just a coincidence. In our statue, the demon was holding a shield. Gandhi never held a shield," Mahasabha president Chandrachur Goswami said. Not only this, but this time Goswami also criticized Mahatma Gandhi for his role in the independence movement.
Trinamool targets BJP-RSS –
Trinamool Congress state general secretary Kunal Ghosh has targeted the BJP over this issue. BJP has shown its true face by portraying Gandhi as a monster in idols. The whole world respects Mahatma Gandhi and his thoughts. But BJP only pretends to be Gandhian, said Ghosh. Not only this, he has also said that this is the 'height of indecency'.
Administration should take action – BJP
"We do not support such things. Insulting Mahatma Gandhi is unacceptable. The administration should take action against the organizers," said BJP spokesperson Samik Bhattacharya.
Web Title: West bengal kolkata durga pandal mahishasura mahatma gandhi photo controversy
Get Latest Marathi News , Maharashtra News and Live Marathi News Headlines from Politics, Sports, Entertainment, Business and hyperlocal news from all cities of Maharashtra.
.