In My Story, readers share their unique and life-changing experiences. Today, we hear from a 41-year-old mother of three Corinne Card from Brighton.
Until my due date, there are some weird things I think: What if I'm alone when I give birth? What if no one can help me and I have to be alone? How can I give birth? and in my head I really planned what to do How can I hold the baby up when it's delivered so it doesn't hit my head? I try to imagine it feeling better. I didn't think it would actually happen…
It was October 14, 2020, in the middle of the pandemic. And I was booked to discuss Zoom with several clients. I told my husband Jon that I was contracting and he had to call himself. I think they are Braxton Hicks contracted and I don't want them to call work.
It's 3 p.m. I have to pick up my daughter Zoe from school. I'm still having these minor contractions. But I don't think it's a big deal. while walking up the hill with his daughter back home I had to stop breathing properly. They are getting stronger
I called the hospital when we came back because now they felt like appropriate Contractions. The midwife asked how far apart they were and all that information and said, "Don't worry, it hasn't really happened yet. If it hurts, take a few paracetamol and go take a shower." So I did.
I originally planned to have a water birth at home. I bought a large newborn pool that we would pump up. But about a week before the due date. They measured my bump and said it was a little smaller than it should have been. Therefore, it is better to go to the hospital for maternity. I'm disappointed but want whatever is the safest
I think my husband was still on the Zoom line as my contractions became more powerful. I got out of the tub and called the midwife again, who said, "No, don't worry. It hasn't happened yet. You have gone too far."
when back into the water Everything seemed less painful. But the contraction continued to increase. I told Jon how hard it was when he finished the phone call. It felt as though the pain had become more intense. And he called the hospital who called me to listen to me during my contractions. I've been in the shower for about an hour and they still say, "No, we don't recommend you to come in. for it will be a long time before the baby is born."
I think around 4:30 PM, although I'm not sure what time is good because I don't want to take my phone there. But the bathroom was very stuffy.
My plan was to stay in the bathtub until the second we left the house to go to the hospital. The midwife asked if my water was lacking and they didn't. from their point of view I think they are making the right call out of all the information we give them.
What happened next was I put my hand down to see how inflated I was. and realized that I could feel what looked like a baby's head.
I told Jon: "I think my head is over there!" And I yelled a lot. At this point, the neighbor came to the window to ask: "What happened here?" Jon yelled back: "She's going to have a baby!" When he called the hospital again The midwife told him to call the doctor, which he did.
from other births I remember that babies shouldn't stay in the vagina for too long. So I put my hands and knees in the shower, waited for the contraction, then pushed lightly, and the head emerged .
It's the shape of the head. But it was white and had a purple streak across it. Later I realized that the baby was still in the amniotic sac.
It was like an out-of-body experience. It was so weird. I yelled: "Head off." "Head out!" He was still in the kitchen. He doesn't want to bring his phone to the bathroom in case the line breaks.
"And he was there. and he is crying And I'm totally alone."

– Corinne Card
I'm waiting for contractions again Pushed a little more and the baby came out – and just as I imagined. months ago I quickly reached out and grabbed what was now a baby. I don't let him go under water. and he was there and he is crying And I'm totally alone
That last momentum freed my son from the bag. I'm trying to explain how you describe the feeling of seeing your new baby there in your hands. It's not like anything else I have two more children in the hospital. and felt that there were many people around and everyone who takes care of you I was relieved to not be among those things. It was very exciting and I was very happy. No pain.
When Jon goes to the bathroom to tell them that the paramedics are on their way. He couldn't believe that boy was there. He was surprised and I think we were both a little shocked. We want Freddy to be safe and warm. I had given birth at the hospital before and they quickly wrapped the baby in cloth. So I said: "Bring a towel. let him warm."
We know the paramedics are coming. But I don't know how long So we wrapped him up. He was very clean as he walked through the bathtub – a proper clean boy.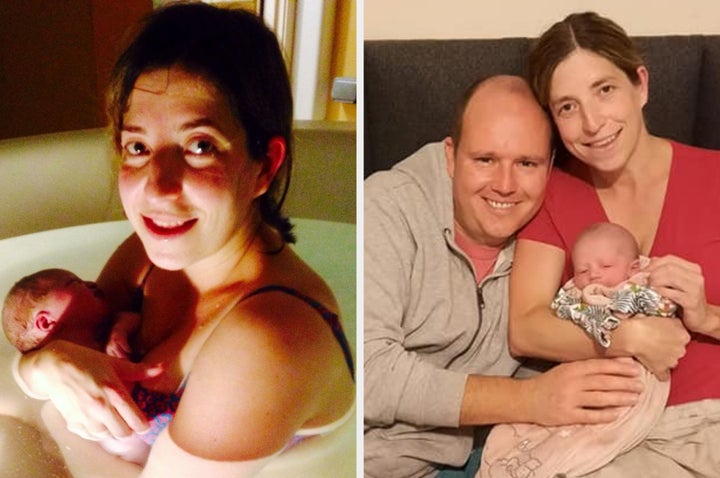 It was a very special moment. I never expected to do something like that myself. In that moment when I manage by myself I didn't panic But I know I'm in a situation where I can go wrong. I don't know if there will be any complications.
But I remembered what I had planned with the pandemic in mind, and it felt quite successful. I saw that nothing was wrong, the baby was crying, he was normal and it was wonderful. I wonder if this is true?
Five or 10 minutes later, the medics arrived. I didn't get out of the tub until they came. Because I don't know how to get out without accidentally pulling on the umbilical cord. So I sat there. Hold the baby in a towel until they walk in. Everything felt like it came out of an accident.
when they arrive They cut the rope and helped me to sleep with the baby. And moments later, some midwives arrived. I think there are four people who help with childbirth and do a lot of paperwork.
"I feel quite successful. I saw that nothing was wrong, the baby was crying, he was normal and it was wonderful. I wonder if this is true or not."

– Corinne Card
Then we had chicken for dinner and watched Quadrophenia with our baby and it felt really weird because everything was back to normal. As soon as the midwife left We had a normal evening – only someone special.
I'd say I found it easy. It's not like sipping a simple tea, but it's easy compared to my other two births. I have no intervention So no one interferes with my body. I didn't take any pills – not that I disagree with that – it wasn't that complicated.
And I'm not in the hospital which I feel quite stressed I know there must be bright lights, crowds, and intense feelings. but in a calm environment in my home it feels easier
Corinne Card is the author of Parenting Tips Your Mom Didn't Tell You – AZ of Parenting in the Digital Age (£4.99). She was interviewed by Natasha Hinde and her answer has been edited for length and clarity.
.