Notification for Congress President Election has been released. Congress Party Central Election Committee Chairman Madhusudan Mistry released the notification for the AICC presidential election on Thursday morning. Submission of nomination papers will start from September 24. The Congress party will accept nomination papers at the central office till September 30. The nomination papers will be scrutinized on October 1. The merit list will be published on the same day. The last date for withdrawal of nomination papers is October 8 at 3 pm. The final list of candidates will be announced at 5 pm on that day.
The Central Election Authority of Congress has released the notification for AICC President Election

— Press Trust of India (@PTI_News) September 22, 2022
If a nomination paper is submitted for the presidential election, there will be no election. It is declared unanimously. If there is more than one candidate.. an election will be held. If you want to vote, then on October 17, the voting will be held at the AICC office from 10 am to 4 pm. After that, the counting of votes will begin on October 19 from 10 am at the AICC headquarters. The new president of the Congress will be announced as soon as the counting of votes is completed.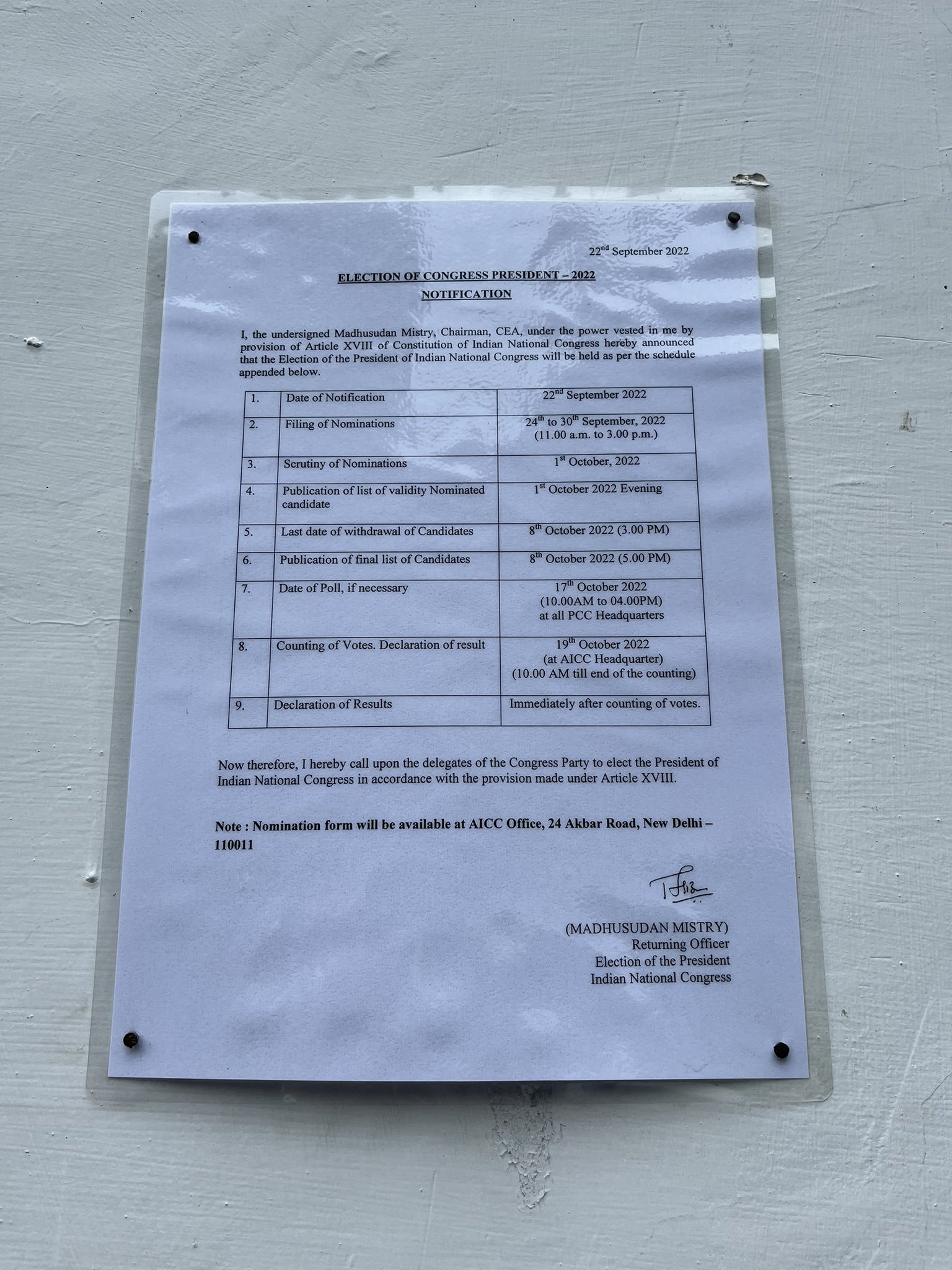 But Congress leader Rahul Gandhi is not ready to contest this election. Despite senior leaders nominating him.. PCCs of many states have passed unanimous resolutions.. but he is not interested in the presidency. The name of Rajasthan Chief Minister Ashok Gehlot (Ashok Gehlot) is mainly heard in this order. He reached Delhi on Wednesday and met Sonia Gandhi at the AICP headquarters. Shashi Tharoor is also in the fray. He reached the party office yesterday along with the party's central election authority chairman Madhusudan Mistry and demanded the list of voters. Digvijay Singh's name also came up recently. He informed that he is in the competition. He will reach Delhi today and meet Sonia Gandhi.
It is rumored that non-Gandhi leaders will take over the reins of AICP this time. It was in this sequence that Ashok Gahlot was introduced. Ashok Gehlot said that he will try to convince Rahul Gandhi till the last moment and if he does not agree, he will contest the elections. Political observers are predicting that anything can happen at the last minute in this situation… Even if Rahul Gandhi comes back to power… no need to be surprised.
Read Telugu news and breaking news in Telugu on News18. Read National, National, International, Tollywood, Sports, Business, Health, Lifestyle, Spiritual, Horoscope.
Tags: Aicc, Ashok Gehlot, Congress, Rahul Gandhi, Sonia Gandhi
.